Guid Title
User Guides: Course Reserves
The course reserves, also called electronic reserves, pathfinders or e-reserves are electronically accessible full text articles and scanned short book chapters that provide a pedagogical or educational purpose and benefit students 24 hours access to course readings, and meet fair use copyright guidelines.
How to access the course reserves
From the Busitema University Library home page https://library.busitema.ac.ug/
​​​​


Scroll down the page - slightly in the middle of the page - look under the "How do I find …?" and click on the link "Course Reserves" 

Access the Busitema University's Course Reserves by following the guide available at https://library.busitema.ac.ug/library-services/info-and-reference/course-reserves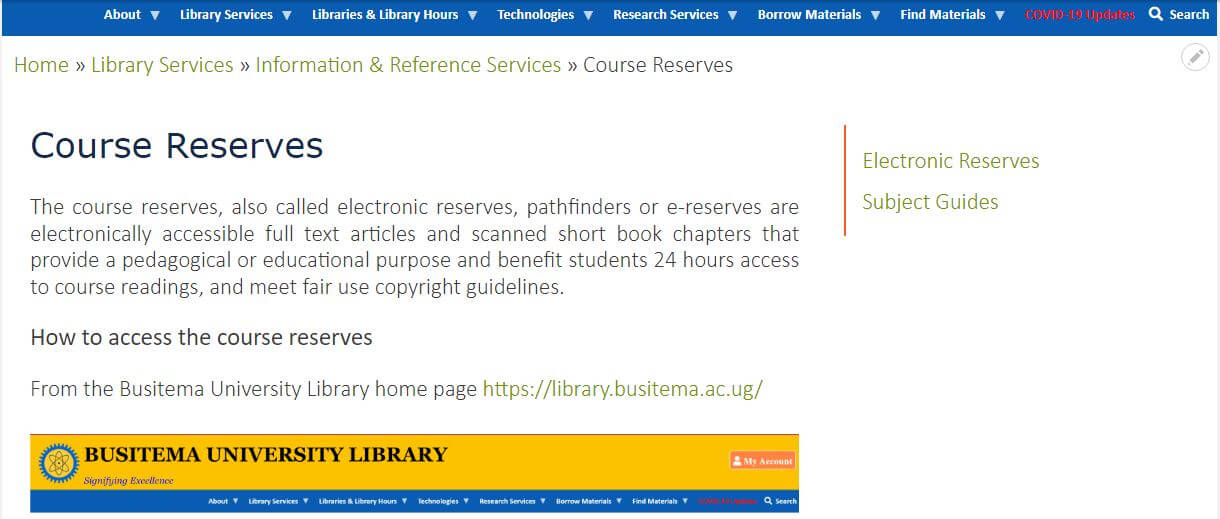 Access the Course Reserves directly by clicking on this link https://libcat.busitema.ac.ug/cgi-bin/koha/opac-course-reserves.pl
Alternatively, you can access the Course reserves by following these simple steps
From the Online Library Catalogue,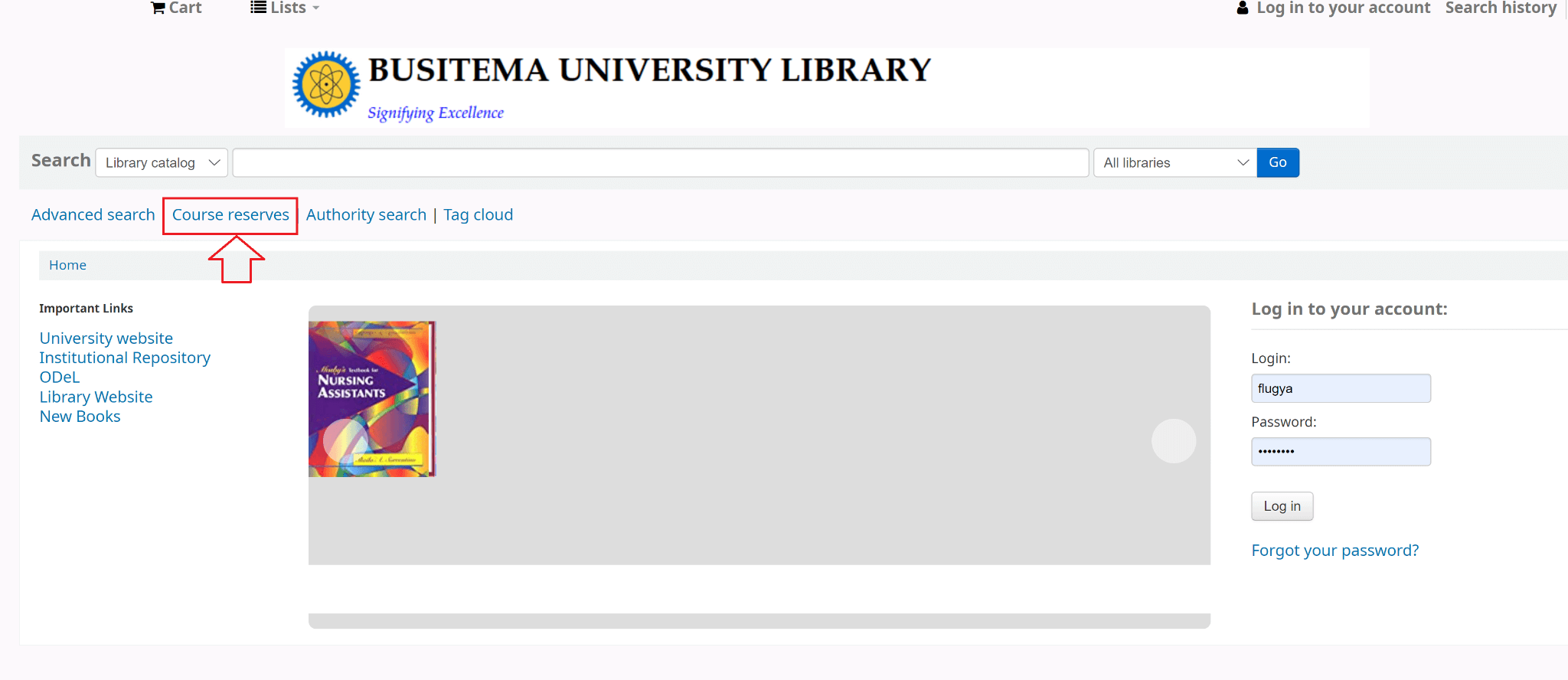 Click "Course Reserves" and this will take you to the page below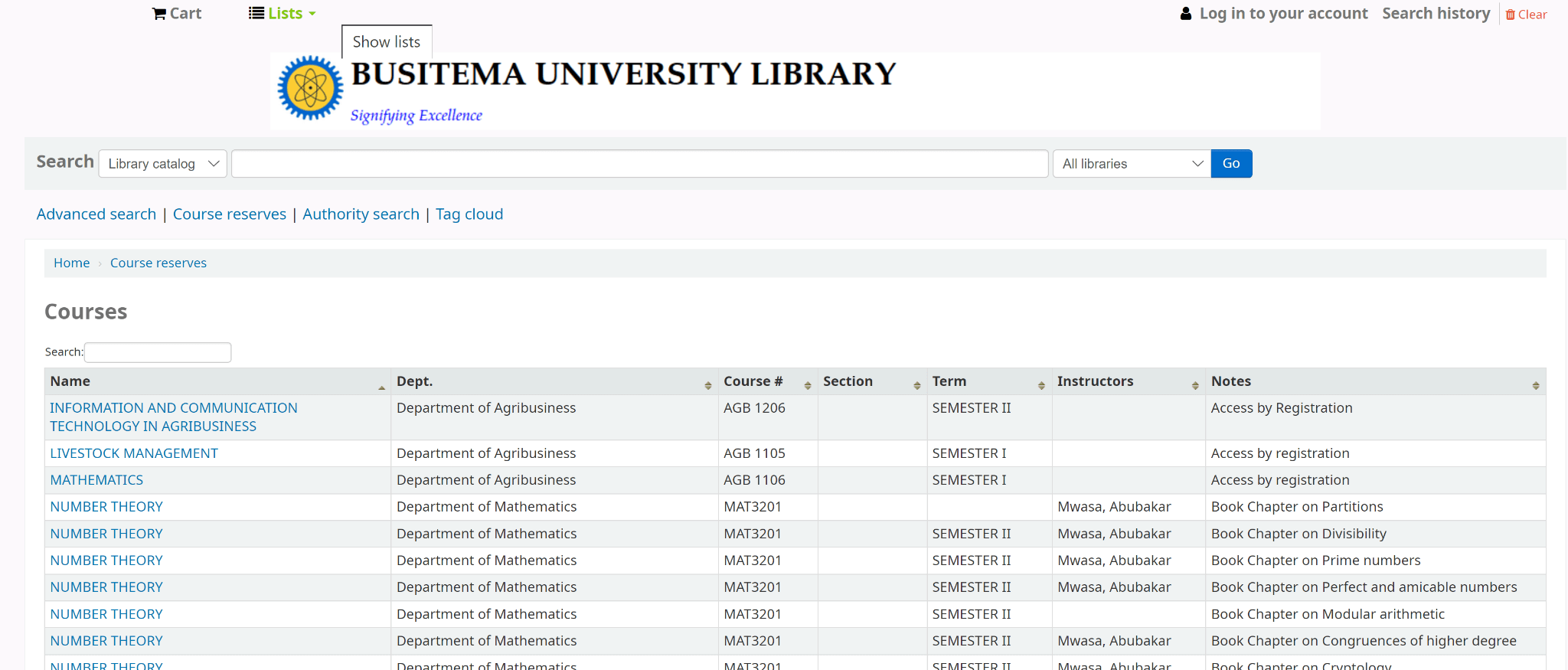 Features of the Course Reserves page - What you need to know to access the Course reserves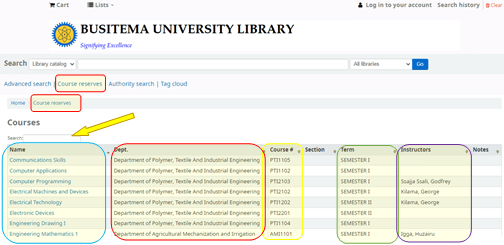 Guidelines for Submitting Course Research
Timeline to course creation
Four (4) weeks in advance to course start date to give enough time to the librarians to scan and process the materials for uploading on the e-reserves systems
Course Information
For all courses, the following information will be provided by the lecturers
Lecturer Name
E-Mail address
Department
Faculty
Course name and number
Course start and end dates
Course reading lists in APA or any other acceptable format as per the faculty
Course syllabus (if available)
Copyright and fair use policy
All course reserves are password protected and only registered students for that particular course/ class will have access to the course page/ e-reserves page. Course content will be removed after the course ends. The lecturers must inform the library staff before the end of the running semester if the items must remain on the electronic course reserves page/ portal or not.
Allowed Course Documents
Materials owned by the lecturers, e.g., course syllabus, reading lists, PowerPoints, etc.
Materials in the public domain
Materials protected under the Creative Commons Licenses
Materials that qualify under the Fair Use Copyright Alliance – Fair Use permits to use a copyrighted work without the copyright owner's permission for purposes such as teaching, scholarship, research, criticism, comment or news reporting
Copyright permission has been obtained from the owner/ author
Copyright Disclaimer statement is added at the top and bottom of all documents to remind users of their obligation to safeguard the materials and avoid infringing on copyright – Fair Use Act Disclaimer
The quality of scans doesn't easily allow reproducibility of the material/s
Course Page creation
After the lecturer has designated the course readings to be placed on electronic course reserves, the request is sent to the library through the Campus Librarian;
The request will provide full and correct citations for each reading title in APA format or that recommended by the faculty;
Documents will be prepared by the library, scanned and posted in alphabetical order on the electronic course reserves systems;
The system can allow the documents to be viewed through – lecturer name, course name, faculty, and department
Readings from required textbooks will be scanned and provided on the electronic course reserves
Text materials will be posted in PDF format
Links will be inserted for free materials and media such Youtube