Photo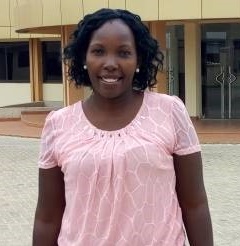 Job Title
IT Officer / Systems Librarian
Qualification
Masters of Science in Information Systems
Campus
Engineering Library
Biography
Ms. Grace Adong is a knowledgeable IT professional with more than 12 years experience in a University IT setting. She holds a Masters of Science in Information Systems (Uganda Martyrs University) and Bachelors in Information Technology and Computing (Kyambogo University).

She is currently working in Busitema University as an IT Officer. She previously worked as a Systems Administrator and has experience in systems Administration, open source solutions, Virtualization, data management, backup, network configuration and maintenance and end user support. In 2018, she was assigned additional duties as a Systems Librarian to Automate the University Library. She successfully set up the Institutional Repository and the Library catalogue that has enhanced research in University and the community. She is also the site Administrator for the Busitema University Online Learning Environment (BUOLE) that is used for teaching and e-Learning.

Ms. Adong is the secretary to the ICT Directors Forum for Research and Education Network for Uganda (RENU) the NREN for Uganda since 2016 to date. Volunteer trainer with Association of African Universities (AAU) under the DATAD-R project in 2018 and facilitated some DATAD-R workshops in Abijan, Kampala and Cairo. She has also attended various conferences like, the African Network Operators Group (AfNOG) in AfNOG, Africa Internet Summit 2016, Gaborone, Botswana, AfNOG-AIS 2017, Nairobi, Kenya, AfNOG - AIS, 2019, Kampala, Uganda. Attended a training on e-Learning Instructional Design Certification, 2019, VINSYS IT Training Centre, Dubai, UAE.